Time: 6:30 PM
Location: University of Nebraska- Nebraska Extension in Lancaster County, 444 Cherrycreek Rd, Lincoln, NE 68528, USA
Letter from Maj Leo Larkin, Commander, 155th Composite Squadron:
The 2016 Nebraska Emergency Response Team (NERT) training is an extension of the successful Pathfinder program. Sustainable training in Civil Air Patrol to maintain Skills Qualification Training Requirements (SQTR) should be the standard so our members and organization are ready when called to serve our communities, state and nation! 
Training is an ongoing requirement in Civil Air Patrol – it doesn't happen just once a year. 
Civil Air Patrol is the supporting agency to a requesting agency. There are times when our mission may or may not involve Search and Rescue. For example, the ELT (121.5) signals are being reduced (but not gone altogether).
We must be prepared to utilize our skills and training in Disaster Relief where there are many agencies involved.
To address real world needs, the 2016 NERT training goes beyond the Civil Air Patrol SQTR task book and Search and Rescue. Of course, some tasks will be covered but this training incorporates Extended Community Outreach (ECO). ECO is a culmination of Wide Area Search (utilized by FEMA and partner agencies who have contributed to Disaster Relief missions), Interview Techniques, CERT and navigation. ECO gives Civil Air Patrol the capacity needed to go out into rural communities and assist local emergency managers, first responders and EMS on Disaster Relief Missions when tasked.
Squadron commanders and staff are encouraged to make those contacts with your local emergency managers. Tell them who we are and what we do. Prove it on the field as a supporting agency and those requests to participate in missions from lead agencies could flourish. That being said, we also have to recognize the real world legalities due to trained members on our teams who are under 18 years of age which may limit who can participate in missions.
I believe Civil Air Patrol can do the heavy lifting if we consistently and safely perform with excellence and market our resources and capabilities. 
I want you to have fun at the 2016 NERT training — keep an open mind, and act professionally. Take some new knowledge home from the instructors, seek out additional training opportunities and practice!
For more information on the 2016 NERT training and to find training resources, visit https://nertsite.wordpress.com/
Semper Vigilans!
Major Leo Larkin, Commander
155th Composite Squadron – Nebraska Wing Civil Air Patrol
The 155th Composite participated in the nation wide Wreaths Across America event at Wyuka Cemetery in Lincoln, NE.
Fourteen cadets assisted by five senior members helped lay 385 beautiful 20-inch evergreen wreaths with hand-tied red velveteen bows in in Soldier's Circle. For the third year Wyuka Cemetery participated in Wreaths Across America, whose theme for 2012 was, "THEN, NOW and FOREVER".  
In addition, seven cadets were part of an official presentation of military branch flag wreaths and POW/MIA, they escorted active duty and POW/MIA personnel.
A picture of Cadet Knopik graced the front of the Lincoln Journal Star.
Thank you all who participated!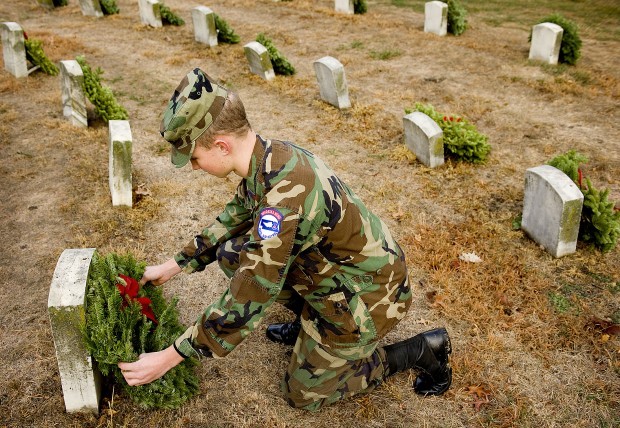 ALCON,
Tuesday, October 30 (after school)- See our "Events" calendar for all information pertaining to our annual MTK activity, POC is Lt. Gerena. I am excited for this opportunity to give back to our community, to prepare, serve, and clean an evening meal. Those who participated last year gained a great deal of respect and admiration for the work conducted at MTK, we hope this year will be doubled.
Great time and turn out. Thank you all who participated.